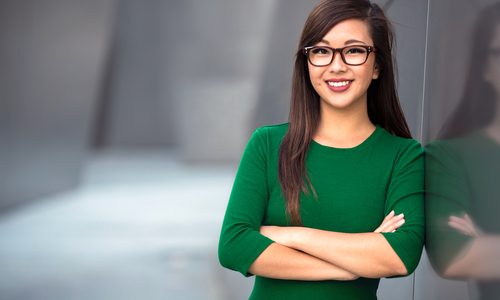 As you begin to grow your company, it becomes even more important to develop your professional reputation. Appearances are everything: clients and vendors want to work with an organization that is established and well-developed. If you're growing a small business, the process of making your business appear to be more professional may seem overwhelming. After all, you may be a one-person team. Luckily there are some small and simple steps you can take to appear on par with any business, even large, multi-national corporations.
Set Up Your Own Domain and Website
Your company's domain is going to become its base of operations on the web. Not only will it control your website — which is where many people will end up after looking for your products and services — but it will also control your email addresses. Having your own domain from the start is important, as is building it out with a professional, responsive website design.
Here are some tips for selecting a domain name:
When in doubt, go ".com." Unless you have a compelling reason to get a different type of domain, .com is still considered to be the "most professional." Alternative domains (such as ".movie" or ".tv") are becoming more popular, but they're still unfamiliar to many.
Shorter isn't always better. It's become increasingly difficult to get a domain name that is short. Your domain should describe your company and your product — and it should be as memorable as possible. It will also impact search engine optimization. As long as your domain name is short enough to be remembered, you should be good.
Don't use clever misspellings. Some companies can get away with this ("Flickr"), but they spend a lot on branding. Instinctively, most people spell things the way they are actually spelled — and may not be able to find your site if it has misspellings in the domain.
Give Them Your Contact Information
One of the first things people look for in a business is how it can be contacted, as this tells them a lot about how well-established the business is. To that end, you should have the following:
A business phone number. You can get a phone number through a digital phone service, such as Google Voice. Having a separate business phone number is important not only for professionalism but also to protect yourself personally.
A fax number. Though faxes are rare for personal use, it's still often used in B2B sales and often expected. You can get an online fax number very affordably, and this will send faxes directly to your email address.
A P.O. box. You don't want to have mail sent to your personal address, but you do need to have a physical address. A P.O. box will give you this. There are also "virtual offices" that give street addresses out and collect your mail for you.
A business email. After you've setup your domain name and your website, it's time to setup your company email address. Again, this will separate your personal communications from your business communications — and it will look more professional.
Print Your Business Cards
Never underestimate the value of networking. Handing out business cards means that you'll be able to connect with potential clients in a completely new way — and you never know whether someone you meet on the street might be exactly the connection that you need to grow. Many people prefer to do business with people they have met in person.
Once you've done all of the above you should be ready to start approaching clients and growing your business. Of course, professionalism is also about how you interact with clients and how your business operates — and part of being a business owner is also about continuing to grow and to learn.