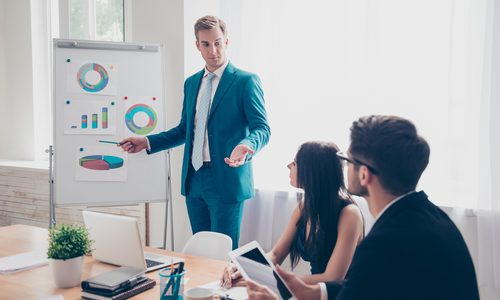 Managers are the backbone of your organization. When you promote employees from within, you can optimize your business and reinforce its company culture. Rather than attempting to determine whether an outside applicant is a good fit, you can analyze your existing employees for managerial traits. But it isn't always easy to identify the employees who are ready to take on more.
Give Employees Room for Growth
Employees need to be able to to learn more if they're going to grow into management positions. If they can't flex their skills, they also can't display talent and acumen that would be important. Let employees take on additional responsibilities and if they have suggestions, see if they can take the ball and run with it. Identifying potential management candidates often requires a lot of testing, so you can figure out whether an individual is positioned for leadership. Remember: job skills don't always mean leadership skills.
Have a Clear Path Towards Promotion
Employees have to be aware of the steps that they need to take in order to advance. Without these opportunities they may find themselves stagnating and feel unmotivated. Having a clear path can easily distinguish those who are just trying to do their job well from those who genuinely want to advance along their career path. In addition to this it can also show people how to do better at their job.
Distribute Responsibilities Slowly
You don't want to overwhelm employees by giving them too much at once. Instead you can distribute responsibilities slowly and see who rises to occasion. Even after deciding on someone to promote, it's important to introduce them to their new work levels appropriately. Over some, they'll be able to better adjust and learn each individual responsibility better.
Court Other Opinions
When employees are under review pay attention to what they say about colleagues. An employee may have positive interactions with current management but may not be able to have positive interactions with other colleagues. This could bode poorly for their management skills. On the other hand, not all opinions do have merit, so you need to be conscientious about following up and finding out more.
Look at their Stats
If you have project management solutions, you can see exactly which employees are doing well. While this isn't everything when it comes to performance, it tells you which employees are meeting their deadlines. Sometimes the numbers can tell you a very different picture than simply talking to an employee. Often attendance may matter as well when determining whether am employee may actually be responsible and reliable.
Know Your Requirements
When selecting for management it's important to know what you'd like to have and what you need to have. While you may require three years of experience, you may or may not need a specific degree. Being able to be more flexible about your requirements can give you an advantage. For instance, an employee that doesn't yet have experience required may be able to make up for it through additional training.
Promoting the best managers is an investment. Good managers will drastically reduce your work load and make your company more effective overall. Just remember that there are many skills that differ between leaders and employees, and it's these "soft skills" that will often distinguish them.