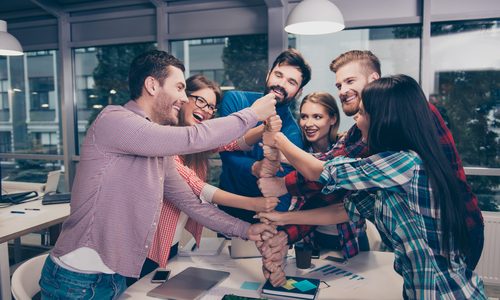 Staff members often see team building as something invasive and unpleasant. Though upper management is well aware that a good team works well together, artificial team building exercises are often met with frustration and reluctance. It's clear that it is important to develop solid team work, but that actually doing so can be a challenge. With that in mind, here are some tips for team building exercises.
Start a Team-Based Scavenger Hunt
Scavenger hunts are usually an excellent way to get employees to work together even if they aren't usually on the same team. Multiple departments can be involved in large scavenger hunts, which can encompass a corporate campus or even a city. Scavenger hunts are beneficial because they are fun ways for employees to learn more about each other. All without putting any pressure on specific members.
Sponsor Community and Charity Events
Employees often enjoy being able to get involved with community and charity events. Especially, during work hours. By creating teams for marathons, walk-a-thons, and fundraisers, a company can give back to its community while also engaging with its employees. For even further benefits, the company can ask its employees for suggestions regarding the best charities in the area. Employees will be able to work together for something that truly matters, which is one of the easiest ways to build teamwork.
Offer Team Performance Initiatives
Employees can work better as a team if they have a goal in common — such as performance initiatives. Of course, performance initiatives that are directly related to revenue can become quite aggressive. But, there are other ways that employees can be encouraged to work together. Getting the best customer service ratings in surveys, for instance, can be a way that a team can work together in a positive way. And, the company's bottom line stays out of the picture.
Choose Goal-Based Team-Building Games
There are many team building games that can have a positive impact; it's all about choosing the right ones. Ice breaker games are great, but they may make employees uncomfortable if they ask them to share too much of themselves. Similarly, creative games are fun for everyone except for creative types. But games such as "telephone," charades, and puzzles are usually fairly direct and give every employee a chance to shine. You can always test out a few different games before you find the ones that work for your employees.
Take it to a Team Building Retreat
Finally, one of the easiest ways to really make employees focus is to setup an event or a retreat. As long as employees are fed, they will generally be more than happy about attending. They will get to know each other simply by spending time together. A team building retreat can host a multitude of different team building exercises and can allow employees to choose the exercises that they think they would like most.
So what shouldn't you do when it comes to team building exercises? Many employees roll their eyes at enforced "wackiness" or "randomness". Trying to force them to engage in creative demonstrations or antics can easily backfire. What you truly want to do is find ways in which your employees can learn to work together, as this is the ultimate end goal. Listen to the feedback that your employees give for a more accurate picture of the best team building methods for your company and its culture.