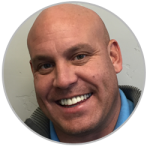 Ethan W. Reinsch
Ethan was always interested in the business aspect of life. After graduating high school in 1992, he went on to attend San Jose State University earning his B.S. in Business Administration. He brings his extensive knowledge and experience to Xurli as our Senior Marketing Analyst being responsible for the daily workflow of our citations program; he reviews clients' online potential and effectiveness for local businesses across the nation. Ethan knows that every situation is unique for every client. He helps our clients identify and understand their needs for growth by effectively recommending different strategies they can use to attain maximum exposure and increasing their online visibility.
From 2008 to 2013, Ethan focused primarily on structuring LLC for online businesses; he really plunged into all the legal aspects of online marketing at this time. Going forward, he has seven years of experience in marketing and is a vital part of our Marketing team and citations program. Ethan enjoys helping small business achieve maximum results, believing that you don't always have to a major conglomerate to succeed in your market.
Ethan is the father of two children, one of whom is a junior at Ole Miss. Ethan is an active leader in the USSSA national community and has 2 World Series Championships, in 2009 and 2011.