Business branding is incredibly important to the success of any company, even a small business. Are your small business branding efforts firing on all cylinders? Do you understand how important small business branding is?
When we think of branding, our minds often wander to the Titans. We think of Apple, with their modern color code, minimalist and industrial designs and, of course, the bitten apple. How about Coca-Cola or Budweiser? Budweiser has been releasing cans and bottles that don't even feature their logo. Customers are still grabbing the 'King of Beers' just from recognizing the colors and replacement content now featured on the cans.
Getting your small business branding off the ground is a serious undertaking. You are working towards instant recognition and triggering brains to think about your company. If you already have a high-quality logo, this is a great start, but it's far from all that's involved in branding.
Build a Style Guide
To really get the wheels of small business branding turning, you'll want to start developing a style guide for your company. Branding starts with your logo, but, it also goes well beyond it.
Fonts
First are fonts. All the companies as mentioned earlier have iconic and limited font usage. There are almost no big brands employing more than a fistful of fonts ever across all products and marketing.
Let's look at Apple. All their ads use one font at a time. Since 2002 they've used a whopping four different fonts in their marketing efforts. Beyond the font, their ads have pretty distinct styling. You don't necessarily need to see the bitten apple to recognize an Apple advertisement. Clean, concise type over a (usually) white background.
Set guidelines for your company marketing. Choose a favorite font and stick to it. Set spacing guidelines or build perfect templates in Photoshop. You want all of your marketing and branding to look to be made by one person with a particular aesthetic in mind.
Colors and Graphics
Choose your colors and imagery and don't stray from that path. Your logo is the ideal place to start when picking colors. Make sure they go together well and present themselves professionally. You're building an identity for your business, just keep that in mind. Use photos or other imagery that share a specific look. Using random cool looking photos and graphics is a rookie mistake, and, does nothing to build an iconic brand.
Remember, the goal of fantastic small business branding is to have your company recognized even if your logo isn't present.
Tags and Voicing
You've probably noticed by now that consistency in your small business branding is key. This consistency continues to the voice you write in as well as what taglines you use. Again, everything written for ads should come from one voice. Decide how you want your marketing to read and stick to it.
Make the Document and Follow It
We've outlined a few of the important ingredients it takes to make a powerhouse small business branding machine. Take the time and write out a comprehensive document with strict guidelines for your marketing and assets to follow. You'll be making consistent advertisements and properties very quickly and consistently. If you have access to Photoshop, setup templates with rulers in place so your spacing remains uniform. Doing all of this properly will take a significant amount of time, but it will pay off.
Making Changes
Companies rebrand all the time. Be careful though, straying too far will cost your company identity. If it's time to reimage, make sure you won't be unnecessarily losing all brand recognition. Once again, let's look at Coca-Cola.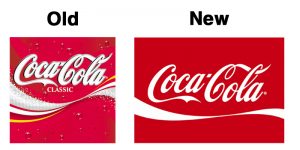 This is proof that a business can update their branding without tossing out their overall identity
Following these ideas laid out will separate your small business branding from the amateurs. You can go further than what we have here, and we encourage you to. Start getting your small business branding off the ground and in the minds of consumers!